==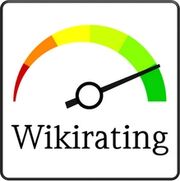 The first open platform for Credit Rating is online==
What is Wikirating?
Edit
Wikirating is an online community credit rating platform. It provides independent and transparent source of credit rating information, issued, reviewed and corrected by a worldwide commnunity of individuals and experts.
Why Wikirating?
Edit
| | |
| --- | --- |
| The recent financial crisis and the resulting economic collapse have shown a serious lack of transparency, efficiency and neutrality regarding assessments on financial risks. Banks, companies and even countries have based their risk and credit estimations on financial data provided by few major and well established rating agencies, and it is now obvious that these ratings were not reliable and that rating methods needs to be drastically improved and controlled. The exaggerated power and influence of the credit rating industry has strongly motivated the idea of Wikirating. The analyses on credit worthiness of countries and governments issued by the rating industry have been too long over rated, and whereas governments are trying to regulate the rating and assessments activities, Wikirating offers a platform where anyone can contribute for better, open and more transparent credit risk assessment. | |
The Vision
Edit
At the very first place, Wikirating aims at federating a community of people who want to participate in providing better, more transparent and open financial rating data and methods. Our mission is to give everyone a chance to contribute to this project, and our vision is that a community of worldwide individuals and experts might have much more influence than public attempts to regulate the rating industry. If, like us, you also see this need and this challenge, we are strongly counting on you to spread the word and to start contributing to Wikirating. Our short term goal is to reach a community of active users to the Wikirating project. Our middle and long term goal is to make from Wikirating a serious alternative to the current private rating agencies.
What does Wikirating provide?
Edit
The Wikirating platform offers the following features and set of information:
The wiki concept
Edit
Wikirating is based on the MediaWiki platform, the same used by Wikipedia, the free encyclopedia. As for Wikipedia, everything posted, published, added or modified by members is reviewed by the entire community. This is the force of applying the wiki concept to credit ratings: submitting rating methods or issuing ratings will be reviewed, corrected and sharpened by the entire Wikirating community.